Fly the Tri

Did you know you can fly direct from the Tri-Cities to 11 different major airports, with no connections? Sure, Seattle is the obvious one. But you can also get direct daily service to San Francisco, Burbank, Salt Lake City, Denver, Minneapolis, Las Vegas and Phoenix, and seasonal nonstop service to Los Angeles and San Diego. Think of us as your well-connected friends.
We save your money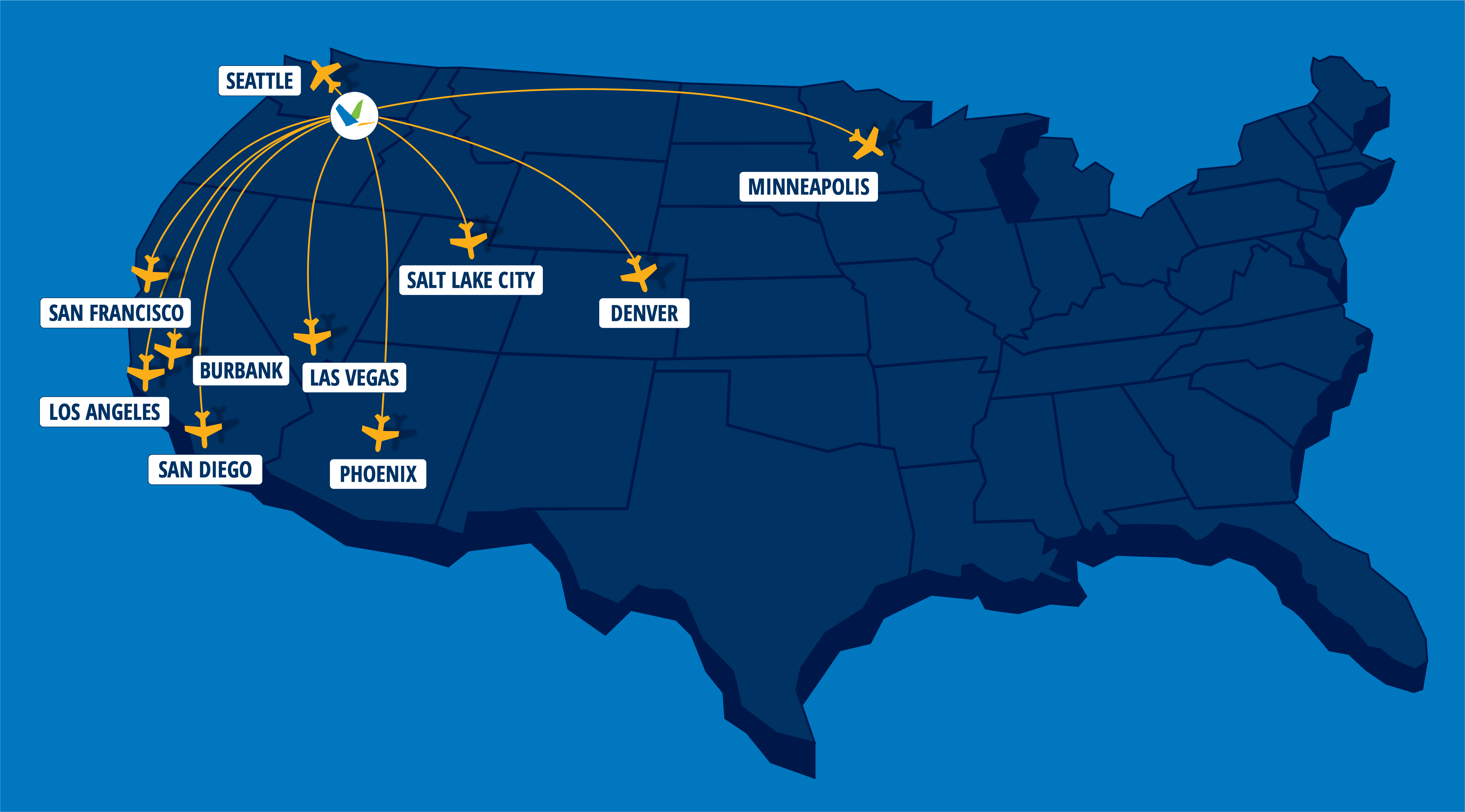 The general perception is a flight from the Tri-Cities Airport costs more than a flight from one of our big city neighbors. We actually track that and guess what? The difference, on average, is about $40. That doesn't factor in extra costs such as parking, lodging, or fuel you'll pay just to get to a nearby city, so we ask: is it really more expensive to Fly Tri-Cities?
First, you are likely looking at a round-trip drive of 400 miles; that's at least $50 for fuel, depending on what you drive. If you want to park near the big city airport, you'll pay $15 to $20 or more per day. If you have a morning flight, you'll probably need a hotel for the night; be prepared to fork over $150 or more for that. That's not even figuring in what your time is worth. Bottom line: we know you are going to look at other airports. It's okay, go ahead; we encourage you to shop around. But make sure you factor in all the extra costs when you're making your choice.
Plus, we actually work with the rest of the community to encourage competition across airlines, because we believe more competition generates better rates. As we said before: our commitment is taking care of you every step of the way. That includes making sure you get the most for your time, and the most for your money.
We save you time too
Tri-Cities Airport is one of the most convenient airports in the Pacific Northwest. We have great highway access from all directions, and traffic...what's that? You won't need to build in extra time to get in or out of the airport. Convenient and ample parking means you don't have to search for a spot, then drag yourself and your luggage onto a parking shuttle. Or try to remember which level of a parking garage you're on when you leave. Or dip into your life savings to pay for that parking. A compact terminal and concourse means your gate is right around the corner from the ticket counter.
Why make a long drive before you fly? Isn't flying all about convenience and getting there faster? Road trips were great in college...but if the lure of the open road were calling you now, you wouldn't be flying in the first place. No need to take an extra vacation day just to get to your airport. No need to drive an extra two to four hours just to get back to your bed at the end of your trip. Your time is worth something, so make it count.
The TC means TLC
We care about every one of our travelers. Yes, we know air travel can be a hassle, but we pride ourselves on our friendliness and our desire to take care of you every moment you're here. Our new concourse offers comfortable seating, pre-wired for your electronic devices. We also have a new play area for the kids, and an upgraded food and beverage service area. For friends and family meeting you when you return home, we offer a meet-and-greet area with enhanced seating and a snack bar. After all, you have enough worries on your trip. Your airport shouldn't be one of them.
Join the crowd
Individuality is great, but sometimes the crowd has it right. Nearly 400,000 people choose to start their trip at the Tri-Cities Airport every year...and that number just keeps growing, especially with our recent major expansion. So what do they know that you don't? Maybe it's time to find out.